Only Canadians in the highest bracket of income earners can afford to buy a property in major cities outside of the prairies, reports Zoocasa in a recently released study.
"While it may not come as a surprise that affording a single-family house is limited to the highest-income percentiles in the biggest cities, the numbers show even entry-level housing is out of reach for many in those markets," says Penelope Graham, managing editor at Zoocasa. "However, while the study revealed just how high the minimum income thresholds are in these urban centres, it also underscored the comparable affordability in the prairie markets."
Zoocasa, an online brokerage, calculated these figures through data from local real estate boards and Statistics Canada. They assumed a 20 per cent down payment with a 3.75-per-cent mortgage amortized for 30 years.
They found that Canadians need to be within the top 2.5 per cent of income earners to afford a single-family home in Vancouver, and in the top 10 per cent of earners to afford a home in Toronto. That works out to earning more than $200,000 and $125,000, respectively. To even purchase an apartment in these cities, residents would need to be in the top quartile of income earners, and making about $94,000 and $75,0000, also respectively.
For Canadians wishing to stay in Ontario, a condo apartment in a smaller city may be the only affordable option available. Condos for sale in London, Ontario, condos for sale in Ottawa and Waterloo real estate for example, require an income of around $45,000, which half the population achieves.
The situation reverses, however, in Alberta, Saskatchewan, and Manitoba, which have been dealing with excess supply issues. There, housing affordability is far more democratic, with 50 per cent of residents able to afford a single-family home, and 75 per cent of residents able to afford an apartment. Someone earning just $65,000, which 50 per cent of Calgary residents do, for example, can buy a detached house comfortably. And to buy an apartment, it only takes an income of $35,500 — doable for 75 per cent of residents.
Regina is the most affordable city analyzed by Zoocasa, with both a single-family home and an apartment in easy grasp by 75 per cent of the population — one can earn under $40,000 to afford the former and just $23,000 to purchase the latter.
For more details on home affordability across Canada, check out the infographic below. Also, check out Alberta mortgage rates to help you calculate mortgage payments.
Zoocasa.com is a leading real estate company that combines online search tools and a full-service brokerage to empower Canadians to buy or sell their homes faster, easier and more successfully. Home buyers can browse real estate listings on the website or the free iOS app.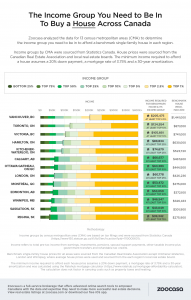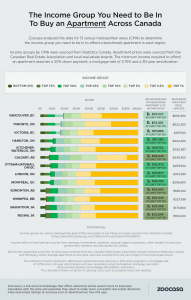 Photo by Tina Dawson on Unsplash