---
With travel on hold for the indefinite future, many points collectors face the following dilemma: wait to redeem until travel is back on the agenda, or cash in now for gift cards or statement credits and get slightly less value out of each point.
For cardholders of American Express travel credit cards – like the American Express Cobalt – that decision has just become a whole lot easier.
Until September 30, 2020, American Express is increasing the value of American Express Membership Rewards points when redeeming for statement credits by 42%.
The temporary increase means you'll now get more value when using AMEX Membership Rewards points to pay down your card's balance, as follows:
Points values for statement credits
Normally: 
1,000 Membership Rewards Points = $7 in Statement Credits 

1 point = 0.7%
Until September 30, 2020: 
1,000 Membership Rewards Points = $10 in Statement Credits

1 point = 1%
Relevant cards:
American Express Cobalt

and American Express Gold Rewards Card
That's a solid return on points you could previously only get on travel redemptions like flights and hotel stays. It also effectively turns some of the best travel credit cards in Canada – the AMEX Cobalt Card and AMEX Gold Rewards Card – into cash back credit cards for the next five months. 
In our opinion, these changes are particularly exciting when looking at the American Express Cobalt. The Cobalt earns 5 points per dollar on groceries and restaurants (including delivery services), which now essentially works out to 5% in statement credits – an earn rate no other cash back card can beat when not factoring in welcome offers. 
American Express Cobalt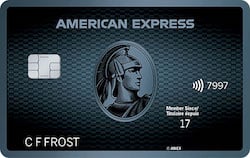 Annual fee: $120 (charged at $10 monthly)
Earn 5 points per $1 on dining and groceries
Earn 2 points per $1 on gas, taxis, public transit and travel (air, water, rail, or hotels)
Earn 1 point per $1 on all other purchases
Welcome Offer: up to 30,000 bonus points in your first year
You'll want to keep in mind though, since the 30,000 point welcome offer is dished out over the course of a year in increments of 2,500 points every month, you won't be able to use most of the bonus points with these new redemption rules.
It's also worth noting that if you do choose to hold on to your points until booking travel is an option again, you could still reap more value from points on travel by strategically using AMEX's Fixed Points redemption chart or transferring points to other loyalty programs. But if you want to keep things simple, avoid thinking about redemption tables, and save now, this new change is by far the best way to go.
---
A unique offer for the American Express Platinum Card
The ultra-premium AMEX Platinum Card is getting its own unique upgrade that's different from the AMEX Cobalt and Gold Rewards Cards outline above. 
Until July 20, the Platinum Card will earn double the points per dollar on every purchase. Points can also be redeemed for statement credits at a rate of 2,000 Membership Rewards Points for $20, which works out to 1 point equals 2%.
Simply put, AMEX is doubling both the Platinum Card's earn rate and redemption values for statement credits. 
The card will go from earning 3 points per dollar on restaurants and food delivery services to 6 points per dollar. And those 6 points will now be worth the equivalent of 12% cash back.
---
Statement credits for other major rewards programs
Do you not collect AMEX Membership Rewards points? Wondering how your credit card points program compares? Here's a breakdown of point values for some of Canada's major rewards programs:

Download infographic here
---
Rewards programs adapting to COVID-19
These moves by American Express are a positive sign that rewards credit cards issuers are making adjustments during these unprecedented times. And, while American Express has made the most impactful change, they haven't been alone. Aeroplan recently announced changes that makes it easier for members to achieve elite Air Canada Altitude status while Scotiabank held off on a modification to the Scotia Rewards Program planned for May that would slightly lower the value of points on certain non-travel redemptions like statement credits and gift cards.
Also read:
---