4 Easy and Affordable DIY Condo Renovations
An oft-heard complaint about condos in high-rise buildings is that they can sometimes lack a little in terms of design and personality. The walls may all be white, the cabinets cookie-cutter, or perhaps the finishings just didn't age well over time. Especially if you plan on selling your condo in the future, spending a little effort on renovations can yield big returns, both in terms of your initial investment and how much your enjoy your space in the meantime. Not all condo renovations need to be stressful undertakings, though. Here are a few you can tackle in under a day, and with minimal cash and handyman know-how.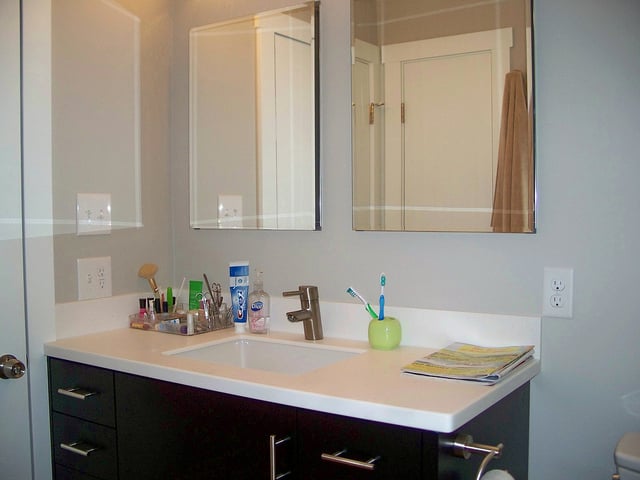 Flickr: mmwm
1. Get a Little Vain
You've likely already heard the well-trotted-out advice about kitchens and bathrooms yielding the best return on investment if renovated. If re-tiling an entire wall or installing a new tub is outside of your budget or expertise, a new vanity cabinet and mirror can completely change the look of your bathroom, with minimal plumbing knowledge and for a little less cash. Sleek, minimalist options in dark wood veneers can run for well under $500 at most major home hardware stores, and installation requires many materials and tools you'll likely already have on hand. The DIY Network has a handy step-by-step guide on how to replace vanity cabinets.
Flickr: maureendidde
2. Apply Some Colour
Re-painting certain spaces in your condo can have some pretty big effects, in terms of the mood it projects and how you perceive the space. Especially for smaller condos, it's often a huge boost to paint (or re-paint) walls in a way that makes small spaces seem larger, and open concept layouts seem a little more defined. For example: If each room in your condo is currently painted a starkly different colour, and every room is visible from the main living area, consider repainting those rooms different tones of the same colour. In an open concept living room and kitchen, try painting a single wall a bright colour while keeping the rest very light and neutral.
Flickr: intrepidflame
3. Pay Attention to Detail
Every day, your hands touch three small-but-significant hardware fixtures in every room of your condo: doorknobs, cabinet handles and light switch fixtures. While we rarely pay exclusive attention to them, replacing old or dull fixtures with bolder, brassier knobs and plates is an ultra-easy (and often cheap) way to add colour and personality to a room without blowing your entire budget. Rather than replacing all the cabinetry in your kitchen, for example, maybe swap out those yellowing white plastic knobs with a fun shape, colour, or material like metal or wood. While hardware and home decor stores are well-stocked in option, also consider trying surplus or second-hand shops that can often yield great deals and some pretty hard-to-find pieces.
4. Light it Up
If certain rooms in your condo are limited in terms of natural light, sprucing up the bulbs and fixtures in your condo's ceilings will not only add some quick polish to a room, but boost its natural ambience. This is especially important if the room is painted a colour that pops up better in brighter light, or is decked out with plenty of wall hangings. If the lighting in the room is fine, however, consider swapping out your light fixtures. Rather than continue to look at the generic ones hung in every unit, find something that matches your own personal style.
There are two things to keep in mind when deciding to take on any kind of condo renovation project of your own. The first is what kinds of renovation projects are considered acceptable within your condominium's rules (you can often check your condo status certificate for this kind of information, or ask your condo board) since this might limit what you're allowed to do to things that may be considered common elements, such as windows and balconies.
The second is knowing what kinds of renovations are within your limits to try out yourself, and which ones you're better off paying the pros to do. Upgrades that involve modifying the structures of walls, or inserting new ones with drywall (which are also projects subject to condo rules, FYI!) are often tricky operations that require more expertise than just simply being handy with a hammer and nail. The same goes for replacing windows. Stick to one (or all!) of these easy and affordable DIY renovation projects, and your Toronto condo should look better in no time.