At Ratehub.ca, it's our goal to educate the potential home buyer, and in that time we've stumbled across a number of mortgage myths. Whether you're a first-time home buyer or a seasoned veteran, there may be some mortgage facts, of which needed clarity, that can actually benefit you. We're all about transparency so let's shed a little light on some of the most common mortgage myths.
Myth 1: The maximum amortization time in Canada is 30 years                                                
This is not true. If you put in a down payment of at least 20% on an uninsured mortgage, you can still qualify for amortizations of 35 and even 40 years. The advantage here is if you have the funds to put in the required down payment, the longer amortization time reduces the monthly payment amount. You also sidestep the CMHC insurance premium which can translate into substantial savings.
Myth 2: You must make at least a 5% down payment                                                                 
Although a down payment of at least 5% is mandatory, there is a way to obtain the funding for it externally. A cash back mortgage  is where the borrower receives a cash advance once their loan has been confirmed. There are some cash back products that are can offer 5% cash back or more. The money you receive from these products may be used for your down payment. However, the catch is that you are subject to higher interest rates.
Myth 3: My bank will give me the best mortgage rate                                                                
On the contrary, banks actually profit from customer loyalty because loyal customers "shop around" the least. Most lending institutions generally offer their "posted" rates first, which are significantly higher interest rates compared to what they are willing to negotiate. Mortgage brokers are given discounted rates due to the volume of business they bring to the lenders.
Myth 4: I have to pay for a mortgage broker                                                                               
A mortgage broker does not charge the client; their services come at no cost. Only in complicated situations a broker will charge a small fee, such the client being denied a loan due to bad credit, forcing the broker to source through private lending and not a financial institution.
Myth 5: Mortgages in Canada are non-tax-deductible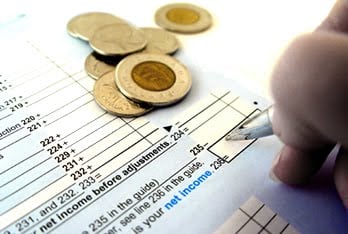 There are a number ways to create a tax-deductible mortgage for yourself. Interest paid is tax-deductible if it is on business or investment income. One strategy is to take out a Home Equity Line of Credit (HELOC) up to 80% of your property`s value, that is, 80% on the amount of principal you have paid off. If you use those funds to finance another mortgage, say on a rental property or business, that mortgage interest is tax deductible. This is why many people are as leveraged as possible on the second property so they can pay off the principal property in order to maximize the tax benefits from the second property.
Ensure that you invest wisely as you want consistent cash flow and manageable risk. Also, be certain that your investments earnings meet the tax-deduction requirements.
This does not apply if you only have one principal property. To reap the benefits from tax-deductions on a mortgage, the mortgage must be used as business. For example, if you work from home or are self-employed or if you treat your property as rental property.
Myth 6: A pre-approval means the money is a sure thing                                                           
Actually, your pre-approval is not written in stone, it is very possible that the agreement could fall through. There's still plenty of financial paperwork that needs to be resolved afterwards. Once pre-approved, lenders will go into more detail to verify your sources of income, debt obligations, and employment letters.
In the case of a "high-ratio mortgage" where the down payment is less than 20 %, the insurer (such as CMHC) provides final approval. It's always a good idea to add a mortgage contingency to your real estate offer. In the event that your mortgage falls through, you won't be under any obligation to pay for the property.
Myth 7: If you've ever been bankrupt, don't even think about applying for a mortgage             
Not true. Bankruptcy doesn't mean the end of the road in terms of home ownership. Far from it – there are actually a number of lenders who specialize in providing mortgages to individuals post-bankruptcy.
After bankruptcy, ensure that you get a credit card facility that starts reporting and rebuilding your credit. You can build up your credit score and potentially be approved by an 'A' lender as soon as two years within being discharged.
Myth 8: With a poor credit history, you will never qualify for a mortgage                                   
False! 'B' and 'C' lenders specialize in dealing with clients who have "less than perfect" credit.
You will likely have to put in a higher down payment and possibly pay higher interest rates due to the risk, but it's still possible.
Mortgage brokers such as Wealthbridge have experience dealing with clients with bad credit.
Myth 9:If I have to pay a penalty to get out of my mortgage, then I should just wait until my mortgage term is up
Not necessarily. Yes, penalty costs can be substantial but it may be worth it in the long term.
Let's say you have a $300,000 outstanding mortgage at a fixed rate of 5.0%. You've also have three years left on your term before you can negotiate for renewal.
According to our mortgage interest calculator, over three years, you will have paid $43,155.71 in interest costs.
Comparatively, if you had switched your $300,000 mortgage to a lower rate of 3.49%, you would have only paid approximately $29,999.59 in interest costs.  That's $13,156 in savings!
In order to determine if it is worth it for you to switch, you'll need to calculate the difference between your mortgage penalty amount versus the potential savings from your switch. Do some comparing and see what suits your financial needs and goals. Also, many lenders cover the penalty cost if you switch.
Myth 10: My financial advisor will help me choose a mortgage well                                          
Believe it or not, your financial advisor may not fully understand your situation. Financial advisors specialize in insurance and investing and are not licensed to deal with mortgages. So, seek advice from a professionally trained mortgage broker or agent.
Some good advice to take away is not to believe everything that you hear. Do a little digging for yourself and find out what your options are. With the variety of mortgage products that are available in Canada today, there will likely be one to suit your needs. Better yet, talk to a licenced mortgage broker in Canada, their services are free and they always keep your best interests in mind.