MBNA True Line® Mastercard® credit card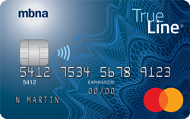 First year rewards (up to)
---
Annual fee
(1st yr waived)
The total net reward is the dollar amount all your rewards will add up to, minus any annual fee you may have to pay. For a detailed explanation on how we calculated this number, check out the Points Calculator tab.
Legal
✪ Balance transfers will be fulfilled in the order listed and are treated as balance transfers in accordance with your Account Agreement. The total value of balance transfers cannot exceed your authorized credit limit. If the value is greater, MBNA may send a partial payment to the named creditor/designated account. THERE WILL BE A TRANSACTION FEE EQUAL TO 3.00% OF THE DOLLAR AMOUNT OF EACH BALANCE TRANSFER INITIATED WITH THIS APPLICATION. A MINIMUM FEE OF $7.50 WILL APPLY TO EACH BALANCE TRANSFER TRANSACTION. A balance transfer may not be used to pay off or down your account balance or any other balances with us (including our affiliates, which would include any member of the TD Bank Group). The Toronto-Dominion Bank is the issuer of this credit card. MBNA is a division of The Toronto-Dominion Bank.
Fees & interest
---
Eligibility
---
This is the total annual family income requirement to be eligible for this credit card. Only applicable if the applicant does not meet the annual income requirement themselves.
Household income:
Any amount
Be a permanent Canadian resident
Have reached the age of majority in the province in which you live (18 yrs in AB, MB, ON, PE, QC, SK. 19 yrs all others)