---
If you're looking for a MBNA credit card that earns the highest rewards with no annual point limit or expiry date, you may want to consider getting the MBNA Rewards World Elite MasterCard.
This MBNA Rewards MasterCard earns two reward points for every $1 spent. These points can then be redeemed for cash back, travel, brand-name merchandise, gift cards, and charitable donations. These perks make the card the best cash back credit card as well as the best travel credit card in Canada.
After receiving your MBNA World Elite MasterCard, you can earn 10,000 bonus points with your first eligible purchase. This has a value of $100 when you redeem your points for cash back.
One thing to consider with this particular credit card is whether or not you're eligible for the card. In order to qualify, you must have an annual income of $70,000 or more or an annual household income of $120,000 or more. If you meet these requirements, this could be a great opportunity to start turning your spending into rewards.
Finally, the MBNA Rewards World Elite MasterCard offers exceptional benefits. You can leave some of your worries behind on your next vacation with the added protection of trip interruption insurance, rental vehicle collision insurance, and baggage protection. Additionally, the offered purchase assurance, concierge services, price protection, and extended warranty benefits put this card a step above its competition.
MBNA Rewards World Elite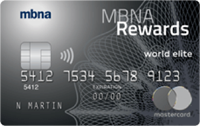 Annual fee: $89
10,000 bonus points with first eligible purchase
Earn 2 MBNA rewards points per dollar
Travel accident and trip interruption insurance
No point limit per year and the points never expire
Also read:
---