---
The MBNA TrueLine MasterCard is becoming one of the most popular credit cards offered by MBNA Canada. This isn't only one of the best low interest credit card options, but it's also a no fee credit card. This means you won't be faced with high annual charges to carry the card. Another key feature to this card is that you will be approved for an interest rate based on your credit rating. Interest rates can be as low as 5.99%, 7.99%, 9.99%, 12.99%, or 14.99%. Here's a look at how the approval for this credit card works:
This MBNA credit card is unique because the interest rate will vary based on your credit score. For example, if you have excellent credit you'll likely receive the 5.99% interest rate. Don't expect to find a lower fixed rate on a no annual fee credit card. This is an incredible deal! If you don't have an excellent credit rating, don't panic. You can still receive a low interest rate. An interest rate of even 14.99% is still quite low when looking at no fee credit cards.
Whichever interest rate you're approved for will be applied for both purchases and balance transfers. The low interest rate is ideal for daily purchases. However, it might not be the best option for balance transfers, as many cards offer lower rates during their introductory period. Having said that, 5.99% is still a relatively low interest rate and therefore it'd be a good way to consolidate your debt in one account. If you get approved for a higher interest rate such as 14.99% there might be better balance transfer options for you such as the MBNA Platinum Plus MasterCard. Also, this card features a standard balance transfer rate of 1%.
Although the interest rate is the key feature to this MBNA MasterCard, there are some additional features. You'll receive exclusive platinum card benefits: Access to 24-hour customer service, a number of travel insurance perks, purchase protection coverage (which includes extended warranty and purchase assurance), and much more. The credit card travel insurance features include travel accident insurance, trip interruption insurance, baggage loss insurance, and car rental insurance.
If you're looking for a low interest credit card with no annual fee, this could be the perfect choice. Before applying for this credit card, consider your credit rating. If you have excellent credit, this card will be a great option.
MBNA TrueLine MasterCard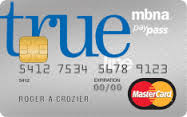 No annual fee
Interest rate as low as 5.99%, 7.99%, 9.99%, 12.99%, or 14.99% (for purchases and balance transfers)
Exclusive platinum card benefits
Also read:
---