---
This post is sponsored by the Meridian Credit Union.
The holiday season – the most festive (and expensive) time of the year – is now upon us.
Between social engagements, food and decorations, Canadians will be spending big on more than just presents for under the tree. This can be especially true if you're taking on holiday dinner hosting duties.
However, hosting your friends and family during the holidays doesn't have to come at the cost of financial strain and a massive grocery bill. Here are some tips to help you budget and avoid overspending on your holiday dinner party.
How to Save Money on Holiday Dinner
Create a grocery list (and stick to it)
You're just as likely to fall victim to impulse buying while strolling through aisles at the supermarket as you're at the mall. Most groceries are designed to encourage overspending (particularly during the holidays) and Ivy League research has shown unplanned purchases can account for 20% of your grocery bill. With that in mind, creating a grocery list can go a long way in helping you save and avoid making unnecessary purchases.
Here's some advice on how to create a budget-friendly holiday dinner grocery list:
Start by creating a menu for your holiday dinner, factoring in the number of people you will be hosting, and work backwards from there – listing all the ingredients you need by type (i.e. meats, vegetables and desserts should all be categorized separately). You can take it a step further and organize your list based on where items are located in your grocery. That way, you can save time walking back-and-forth between aisles and limit the chances of something that's not on your list catching your eye;
Forget about keeping a mental list, commit in writing on paper or in a smartphone app that you can constantly reference;
Don't leave your grocery list (or shopping) to the last minute. Start early, so you can spend time being proactive and scoping out the best grocery deals;
Make your list, and shop for groceries, alone. You'll be less likely to go over budget and can avoid having your partner or kids add in unnecessary food items;
Stick to your list no matter what. If you find a food item that's not on your grocery list, avoid buying it, even if it's on a special limited-time holiday offer.
Shop with a credit card that's made for groceries
With the right credit card, you can rack up savings on every dollar you spend on your holiday grocery shopping (as well as your purchases year-round).
The Meridian Visa Infinite Cash Back Card is made for those who spend big on groceries and will net you one of the highest returns on grocery purchases of any credit card in Canada with a whopping 4% cash back.

Meridian Visa Infinite Cash Back Card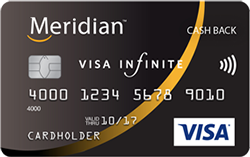 Earn 4% cash back on groceries and gas, 2% cash back on drug store purchases and recurring bill payments, and 1% cash back on all other purchases
Annual fee: $99 (waived for first year)
Emergency travel and mobile device insurance
In addition to helping you save on groceries, this card offers 4% cash back on gas, 2% on pharmacies and utility bills, and 1% on all other purchases and features top-notch travel insurance perks. Plus, since this card is issued by Visa, it's accepted at most stores including a number of discount grocers, so you won't have to compromise on where you shop.
For a limited-time, the Meridian Visa Infinite Cash Back comes with a $100 gift card when you are approved through Ratehub.ca, which you can put towards a gift for loved ones to further help you save on your holiday spending. The card has a $99 annual fee but it's waived in the first year for new cardholders.
While a credit card can help you save on your holiday dinner (and annual grocery spend), it'll only work to your benefit if you pay off your statement in full. So, stay on top of your spending and use a credit card selectively if you suspect that you'll carry a balance.
Eat more greens
A turkey is often the centrepiece of a traditional holiday meal – and it's pound for pound almost always the most expensive. To carve out some extra savings, consider substituting a turkey for cheaper alternatives such as chicken or shepherd's pie. Better yet, elevate your vegetable dishes from sides to mains. Vegetables are always more affordable than protein and research from the Credit Counselling Society estimates Canadians can save around $70 every month ($880 annually) by eating less meat and more greens.
If you have no plans on compromising on the traditional Christmas turkey feast, use a turkey calculator to pick the right-sized bird for the number of adults and children who'll be at your holiday dinner. That way, you'll avoid squandering away money on an oversized turkey and excessive portions.
Host a potluck
Inviting friends and family to a potluck and having them chip in by bringing appetizers and dishes can be a great way to save money on your holiday dinner costs. As host of a potluck, you'll have to cover the main course and plan ahead by tasking some guests with handling appetizers, others with desserts and those who aren't savvy cookers with alcoholic drinks and snacks.
Double dip with flyers and coupons
With one of Canada's best credit cards – the Meridian Visa Infinite Cash Back Card – you'll get 4% back on every $1 you spend stocking up on holiday dinner ingredients at the grocery store. However, you can boost your savings by double dipping and using a credit card and grocery coupons at the same time.
A number of money-saving apps and websites (such as Flipp, Checkout51 and Drop) offer a mix of coupons, points or cash back on every dollar you spend on groceries that, when used in tandem with a rewards credit card, can help you save faster. You should also sign up for emails and flyers from department stores and grocery chains, who may be rolling out a number of holiday-themed discounts that you can take advantage of.
Cook from scratch
The convenience of buying pre-cut vegetables and ready-made food comes at a cost. So, while grocery stores may display a number of appetizing already-cooked holiday dishes, stick to buying raw ingredients and cooking from scratch at home.
While cooking from scratch is more time-intensive, it can help you save big and even be a great way to bond with friends and family, who you can enlist for help. Plus, if you organize your kitchen in advance, clean while you cook, use a slow-cooker and stick to straightforward recipes, the process can be a lot simpler than you think.
Buy generic and shop at discount stores
You can save a considerable chunk of change on your holiday feast by buying generic – particularly when paying a premium price for a brand has little impact on taste or quality, such as in the case of spices and seasoning, baking supplies and salad mix. Furthermore, consider hopping into your car to shop at discount grocers and opting for cheaper store-brand items.
Keep it simple
Holiday dinners are about spending time with your loved ones over a delicious meal. Don't lose sight of that fact by going all out with an opulent main course, dozens of side dishes and oversized portions. Stick with simple, home-made dishes made from scratch, invite guests to bring their own entrees and save on your grocery shopping with a well-formatted shopping list, some flyers and with the right credit card that offers bonus rewards on groceries.
---